Ghido God Giga SUN
Daisuke Kimura
[Set of 3 Posters] are available here.
This print is a signed and numbered edition of screenprints.
Hand-Pulled 6 Color Screenprint including Metallic Inks
Edition of 100 Signed & Hand numbered
Printed by Zigame
290 x 590mm
Please note:
Please let us know if you want to combine shipping for your additional order print(s) on the different release date, we will refund the balance of shipping. However please understand the delivery time for each ptint.
*We ship all over the world, and the shipping charge depends on your delivery address and your purchase amount. Find your delivery zone by shipping calculator in your cart (the shopping bag) and see the shipping charge.
*Depend of the process of hand pulled for our screenprint, since the texture, condition of the item image on the website can be different from that of the real item, please understand.
*Please allow at least 2 to 4 weeks for delivery due to the process of hand pulled screenprint.
SOLD OUT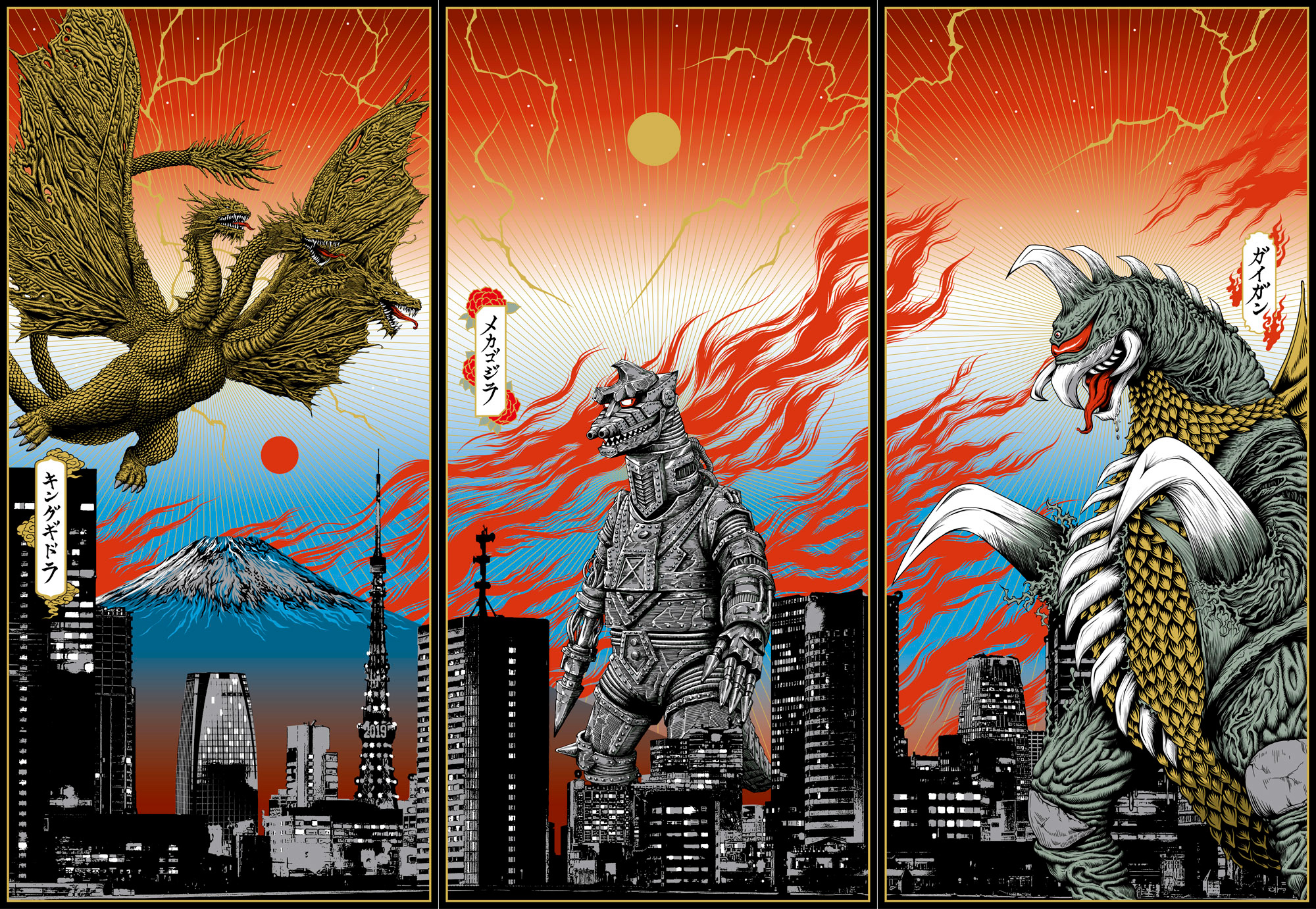 Ghido God Giga – King Ghidorah × Mecha Godzilla × Gigan –
3 posters, 290mm x 590mm each, Six Color Screen Print including Metallic Inks
Edition of 100 each, Signed & Numbered – $50 each.
About Daisuke Kimura…
Graphic designer, illustrator, and art director. Born in 1974 and raised in Machida, Tokyo. Visited to San Francisco in 1996 and inspired by psychedelic culture and art. He began to create various art works after the trip. Now he is belonging to the creative division of an advertising agency for foreign-affiliated clients. Acting as a graphic designer works on advertisement visuals, packages, posters, logos, and typographies etc. He released a print edition named "Samurai Jerry" for the Grateful Dead 50th anniversary, also "Trey Anastasio Band Super Saiyan" for the Phish shows at Brooklyn Bowl Las Vegas in 2015.
You may also like…
Out of Stock

Prints

[Set of 3 Posters] are available here.

This print is a signed and numbered edition of screenprints.

Hand-Pulled 6 Color Screenprint including Metallic Inks
Edition of 100 Signed & Hand numbered
Printed by Zigame
290 x 590mm

Please note:
Please let us know if you want to combine shipping for your additional order print(s) on the different release date, we will refund the balance of shipping. However please understand the delivery time for each ptint.

*We ship all over the world, and the shipping charge depends on your delivery address and your purchase amount. Find your delivery zone by shipping calculator in your cart (the shopping bag) and see the shipping charge.

*Depend of the process of hand pulled for our screenprint, since the texture, condition of the item image on the website can be different from that of the real item, please understand.

*Please allow at least 2 to 4 weeks for delivery due to the process of hand pulled screenprint.

$

50.00

Out of Stock

Prints

Each print is a signed and numbered edition of screenprints.

Hand-Pulled 6 Color Screenprint including Metallic Inks
Edition of 100 each, Signed & Hand numbered
Printed by Zigame
290 x 590mm each

*We ship all over the world, and the shipping charge depends on your delivery address and your purchase amount. Find your delivery zone by shipping calculator in your cart (the shopping bag) and see the shipping charge.

*For the shipping posters safely by air, we use 1 tube for 1 each poster and each tube is combined up to 3 tubes.

*Depend of the process of hand pulled for our screenprint, since the texture, condition of the item image on the website can be different from that of the real item, please understand.

*Please allow at least 2 to 4 weeks for delivery due to the process of hand pulled screenprint.

 

$

150.00

Out of Stock

Prints

[Set of 3 Posters] are available here.

This print is a signed and numbered edition of screenprints.

Hand-Pulled 6 Color Screenprint including Metallic Inks
Edition of 100 Signed & Hand numbered
Printed by Zigame
290 x 590mm

Please note:
Please let us know if you want to combine shipping for your additional order print(s) on the different release date, we will refund the balance of shipping. However please understand the delivery time for each ptint.

*We ship all over the world, and the shipping charge depends on your delivery address and your purchase amount. Find your delivery zone by shipping calculator in your cart (the shopping bag) and see the shipping charge.

*Depend of the process of hand pulled for our screenprint, since the texture, condition of the item image on the website can be different from that of the real item, please understand.

*Please allow at least 2 to 4 weeks for delivery due to the process of hand pulled screenprint.

$

50.00
Related Products
Out of Stock

Prints

This print is a signed and numbered edition of screenprints.

Hand-Pulled 2 Color Screenprint
Edition of 20 Signed & Hand numbered
Printed by Zigame
386 x 544mm

*We ship all over the world, and the shipping charge depends on your delivery address and your purchase amount. Find your delivery zone by shipping calculator in your cart (the shopping bag) and see the shipping charge.

*Depend of the process of hand pulled for our screenprint, since the texture, condition of the item image on the website can be different from that of the real item, please understand.

*Please allow at least 6 to 8 weeks for delivery.

$

35.00