Last Waltz 420
SHOHEI
Archival Pigment Print on Hahnemuhle German Etching 310g
Edition of 50 Signed & Hand numbered
(Prints available at the Gallery / Few prints available online)
Printed by Zigame
345 × 637mm
*An original drawing technique: ballpoint pen
*We ship all over the world, and the shipping charge depends on your delivery address and your purchase amount. Find your delivery zone by shipping calculator in your cart (the shopping bag) and see the shipping charge.
*Please allow at least 1 to 2 weeks for delivery.
SOLD OUT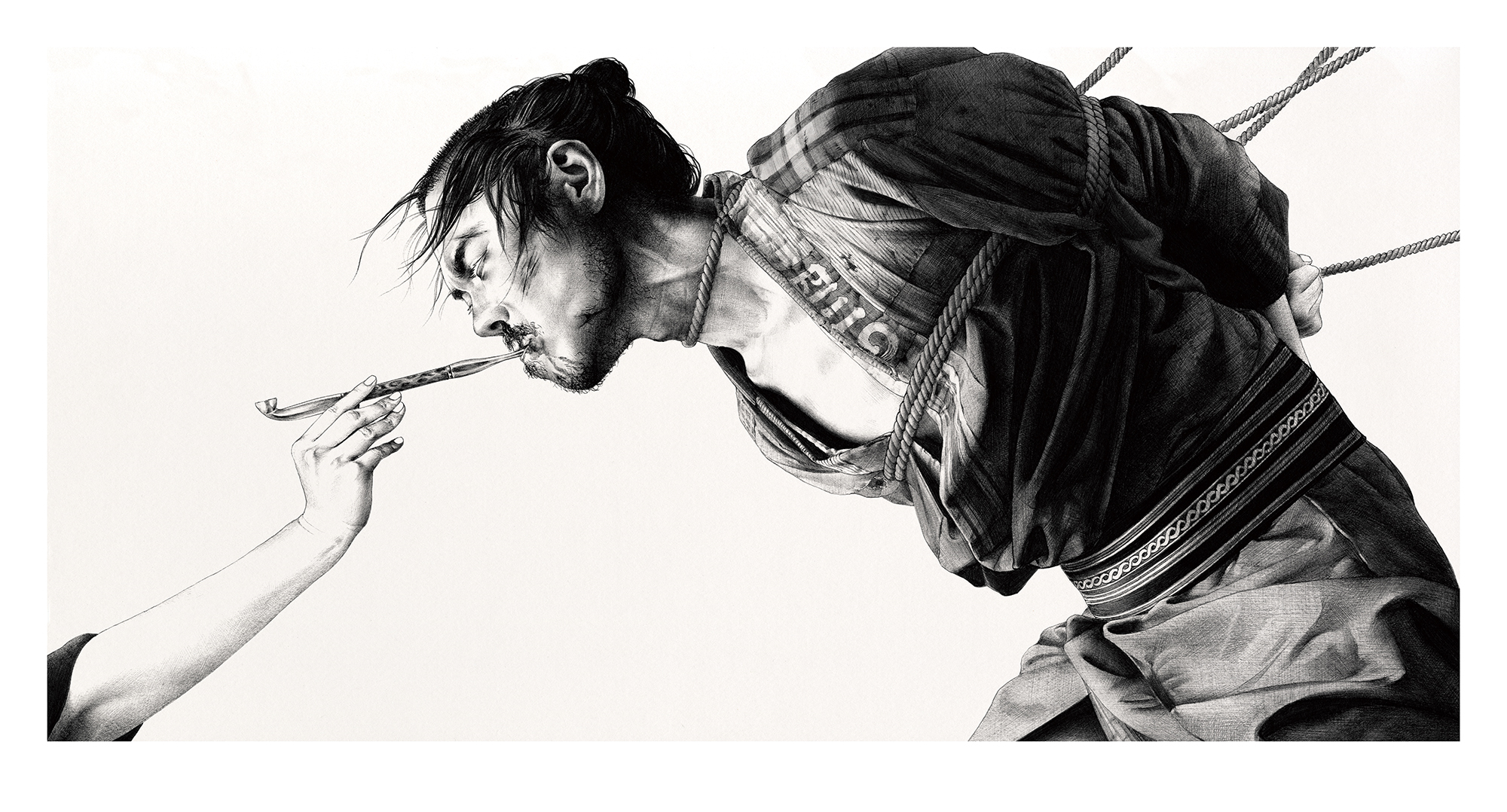 Last Waltz 420
Here is your last smoke. Chinese characters that are used in the Japanese writing system on the Kimono stand for 420.
About SHOHEI…
Born in Tokyo in 1980. Working mostly in ballpoint pen, Shohei Otomo's insightful depictions of Japan expose both its commercial facade and deepest underground culture. Delivered with an unmistakable level of biting political analysis and technical perfection, Shohei's work straddles the worlds of art, graphic design, anime and punk.
Son of the legendary Katsuhiro Otomo the prolific author and illustrator who has shaped so much of Japanese culture with titles such as AKIRA, Shohei's work takes his fathers legacy into the next generation.
You may also like…
Out of Stock

Prints

This print is a signed and numbered edition of screenprints.

Hand-Pulled 2 Color Screenprint
Edition of 25 Signed & Hand numbered
(25 prints available online)
Printed by Zigame
395 x 544mm

*An original drawing technique: ballpoint pen + drawing pen

*We ship all over the world, and the shipping charge depends on your delivery address and your purchase amount. Find your delivery zone by shipping calculator in your cart (the shopping bag) and see the shipping charge.

*Depend of the process of hand pulled for our screenprint, since the texture, condition of the item image on the website can be different from that of the real item, please understand.

*Please allow at least 2 to 4 weeks for delivery.

$

60.00

Out of Stock

Prints

This print is a signed and numbered edition of screenprints.

Hand-Pulled 4 Color Screenprint
Edition of 30 Signed & Hand numbered
Printed by Zigame
386 x 544mm

*Not framed print.

*We ship all over the world, and the shipping charge depends on your delivery address and your purchase amount. Find your delivery zone by shipping calculator in your cart (the shopping bag) and see the shipping charge.

*Depend of the process of hand pulled for our screenprint, since the texture, condition of the item image on the website can be different from that of the real item, please understand.

*Please allow at least 2 to 4 weeks for delivery.

$

80.00

Out of Stock

Prints

This print is a signed and numbered edition of screenprints.

Hand-Pulled 2 Color Screenprint
Edition of 125 Signed & Hand numbered
(100 prints available at the Gorge / 25 prints available online)
Printed by Zigame
333 x 470mm

*An original drawing technique: ballpoint pen + drawing pen

*We ship all over the world, and the shipping charge depends on your delivery address and your purchase amount. Find your delivery zone by shipping calculator in your cart (the shopping bag) and see the shipping charge.

*Depend of the process of hand pulled for our screenprint, since the texture, condition of the item image on the website can be different from that of the real item, please understand.

*Please allow at least 2 to 4 weeks for delivery.

$

40.00
Related Products
Out of Stock

Prints

This print is a signed and numbered edition of screenprints.

Hand-Pulled 6 Color Screenprint
Edition of 50 Signed & Hand numbered
Printed by Zigame
386 x 544mm

*We ship all over the world, and the shipping charge depends on your delivery address and your purchase amount. Find your delivery zone by shipping calculator in your cart (the shopping bag) and see the shipping charge.

*Depend of the process of hand pulled for our screenprint, since the texture, condition of the item image on the website can be different from that of the real item, please understand.

*Please allow at least 6 to 8 weeks for delivery.

$

65.00